Vietnam's Role in Hi-Tech Manufacturing Supply Chain
Vietnam has emerged as a key player in the global manufacturing supply chain, particularly in the hi-tech sector. Recently, Vietnam and the U.S. announced the establishment of a Comprehensive Strategic Partnership. Additionally, during Biden's visit, deals were signed with U.S. businesses, emphasizing increased cooperation in areas such as cloud computing, semiconductors, and artificial intelligence. The country has attracted numerous foreign investors seeking a low-cost, high-quality, and stable alternative to China amidst ongoing trade tensions and rising labor costs in the world's second-largest economy.
In this blog post, we will dive into what is hi-tech manufacturing and what is Vietnam's position in this industry. Covering the main challenges and the potential opportunities present in Vietnam.
What is Hi-Tech Manufacturing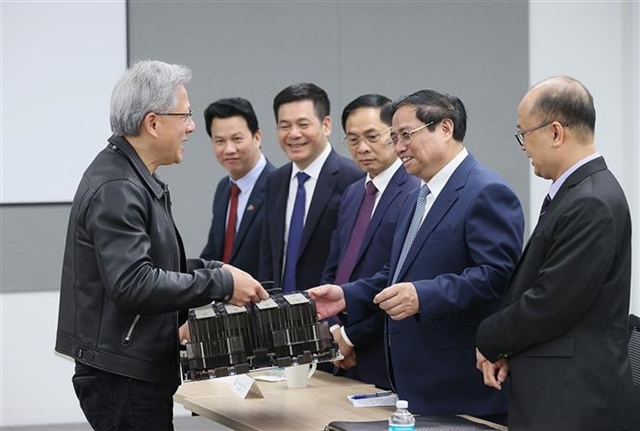 (Prime Minister Pham Minh Chinh (R) and Nvidia chairman Jensen Huang during a working trip in the U.S, Sept. 18, 2023)
Hi-tech manufacturing refers to the production of goods that require advance technologies and skills. This includes electronics, aerospace products and biotechnology products. With hi-tech technology, it is hugely associated with higher value add, higher productivity and higher wages. 
Furthermore, hi-tech manufacturing is a key driver of economic growth and global trade. According to the World Trade Organization (WTO), hi-tech products accounted for 18% of world merchandise exports in 2020, which was a 14% increase from 2000.
Additionally, hi-tech products are also more resilient to trade shocks and fluctuations in demand compared to low-tech products.
Hi-Tech Manufacturing in Vietnam
In recent years, Vietnam has been developing its hi-tech manufacturing sector. This is evident as Vietnam became the second-largest exporter of smartphones in the world just behind China. Vietnam hosts major brands such as Apple, Samsung, Intel, LG, Cannon and Panasonic. Furthermore, in 2020, Vietnam's electronics exports reached US$96 billion which accounted for 40% of their total exports. 
These advantages made Vietnam attractive: 
Low Labor Costs
One of the main advantages is the low labour costs in Vietnam. 
In Vietnam, their minimum wage is around US$160 per month which is lower compared to China and Thailand which are at $300 and $270 respectively. This is ideal for manufacturers as they will be able to lower costs which increases their profits. 
For example, the world's largest smartphone maker, Samsung, shifted most of its production from China to Vietnam where over 160,000 workers were employed and the exports accounted for about a quarter of the total country's exports. 
Other companies such as Nike, Adidas and LG have also set up factories here to capitalise on the low cost and abundant workforce present here. 
Strategic Location 
A second advantage is due to its strategic geographical location where it sits in the heart of Southeast Asia with access to major markets such as China and India. Furthermore, Vietnam has a long coastline and several deep-water ports that facilitate maritime trade. 
According to the World Bank, in 2019, Vietnam's trade openness ratio was 208 % which was higher than the regional average of 134%. 
Moreover, with the Free Trade Agreements (FTA) such as the Comprehensive and Progressive Agreement for Trans-Pacific Partnership (CPTPP) and the Regional Comprehensive Economic Partnership (RCEP) that Vietnam has with many countries and regions including the European Union (EU) and the United Kingdom (UK), it gave them access to markets which had a combined population of over 3.5 billion and GDP of over US$50 trillion. 
Availability of Skilled Talent
A third advantage is the young and readily available large population of over 97 million people in Vietnam with a literacy rate of 95%. 
According to the World Economic Forum (WEF), Vietnam ranks 34th out of 141 countries in terms of quality of education and 41st in terms of quality of math and science education. 
Furthermore, Vietnam has a growing pool of talent in the Information Technology sector where they have over 400,000 software engineers with an annual growth rate of 8% according to a report by Google and Temasek. According to another study by Stanford University, Vietnam ranks second in Southeast Asia in terms of AI research output, just behind Singapore. 
Challenges in Hi-Tech Manufacturing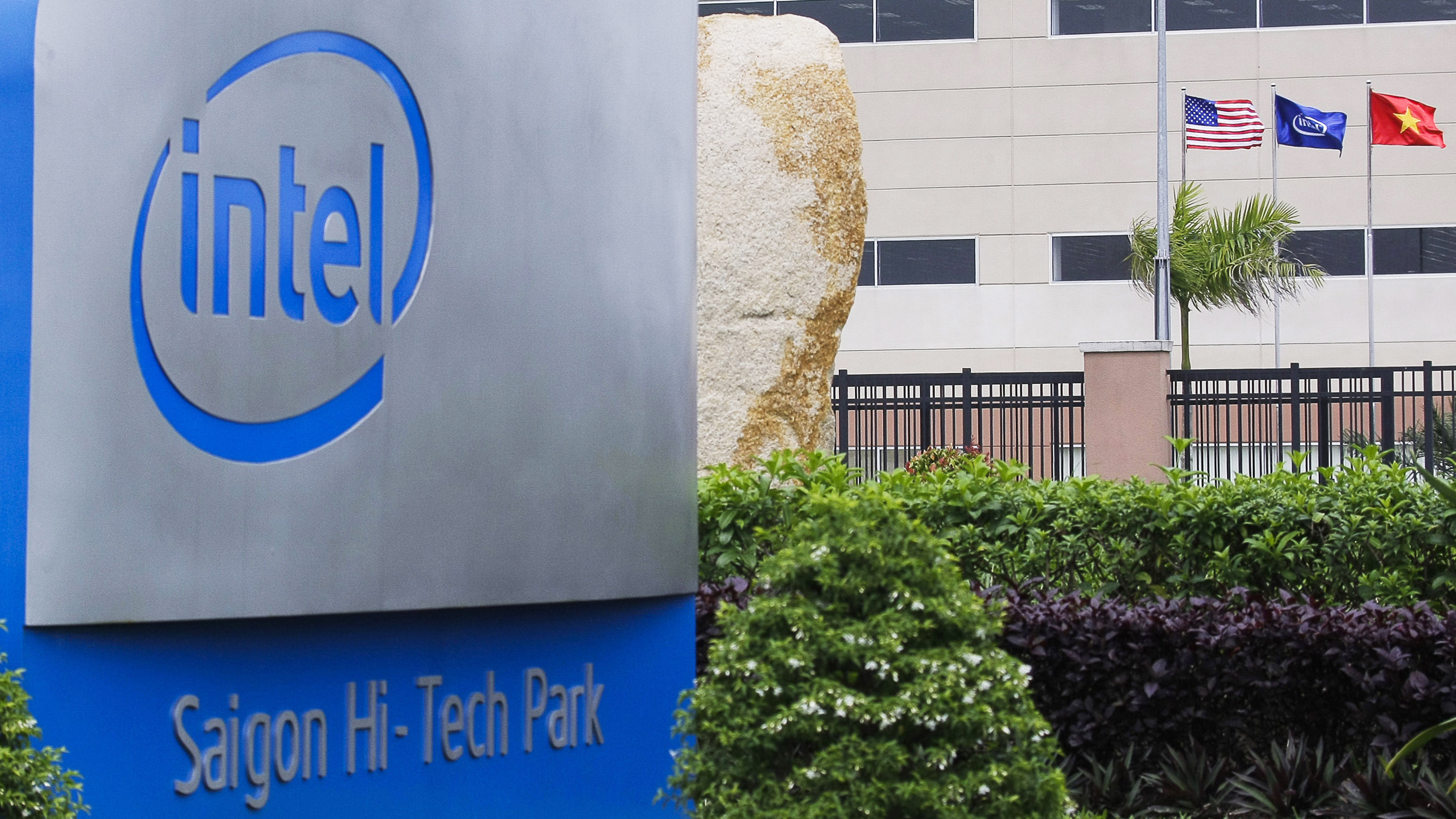 (Intel's latest Assembly and Test plant in Saigon's Hi Tech Park in Vietnam)
Despite its achievements and advantages, Vietnam also faces some challenges in its hi-tech manufacturing sector. 
These include:
Competition from Emerging Economies 
In this booming industry, there are other countries such as India, Indonesia, Malaysia and Thailand who are competing for FDI and market share in the hi-tech sector. These countries may very well offer better infrastructure, more incentives and lower costs compared to Vietnam. 
For example, in India, the Production Linked Incentive (PLI) scheme was introduced to attract global manufacturers of mobile phones and electronic products. This scheme offers incentives ranging from 4-6% of incremental sales for five years. 
Another example is that in Indonesia, tax breaks and subsidies are offered to attract companies like Samsung, LG, and Hyundai to invest in the Electric Vehicle (EV) Industry.
Under-developed Infrastructure 
Vietnam's infrastructure still lags behind some of its regional peers. According to the WEF, Vietnam ranks 77th out of 141 countries in terms of quality of overall infrastructure and 100th in terms of quality of electricity supply. Poor infrastructure can increase transportation costs, cause delays or disruptions in production or delivery, and affect product quality or safety.
For instance, Vietnam's logistics costs account for about 20% of GDP, much higher than the average of 10-12% in ASEAN. Moreover, Vietnam faces frequent power shortages and blackouts, especially during peak hours or dry seasons. The country relies heavily on coal and hydropower, which are vulnerable to environmental and climate change impacts.
Opportunities in Hi-Tech Manufacturing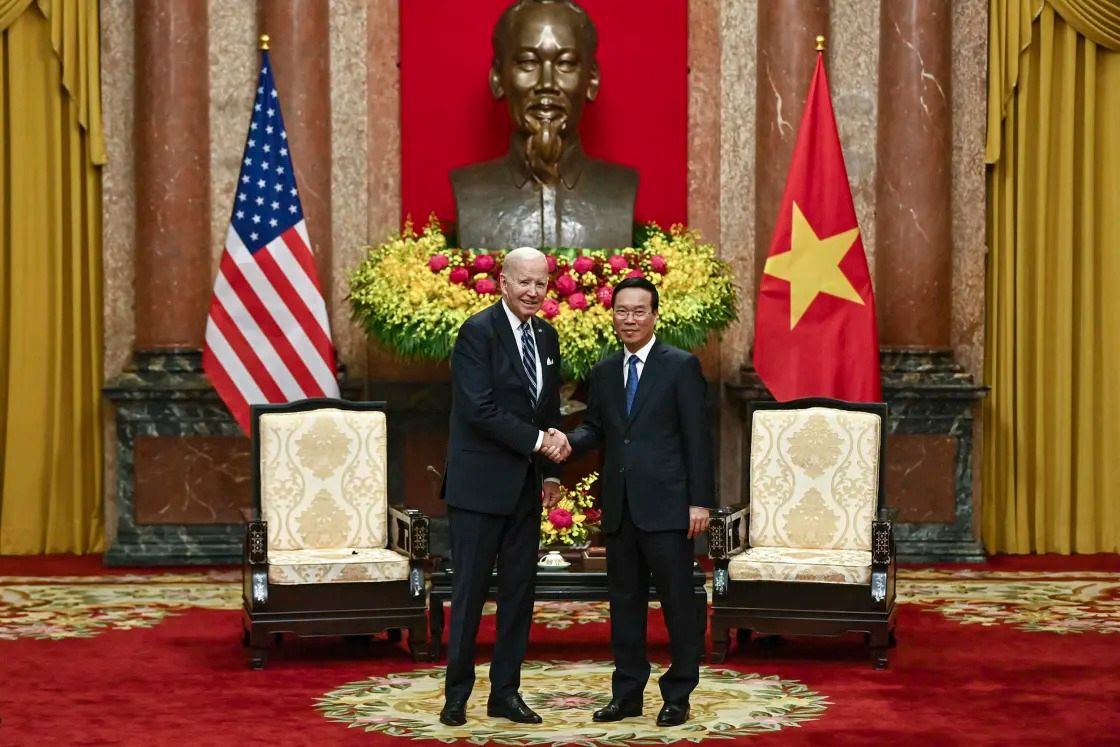 Despite these challenges, Vietnam also has many opportunities to boost its hi-tech manufacturing sector. 
These include:
Integration with Global Value Networks 
Vietnam is one the fastest-growing economies in Southeast Asia with a GDP growth rate of 6.5% in 2023. This is largely due to its strong performance in the hi-tech manufacturing industry, especially for products such as electronics and computer hardware. 
However, to sustain its growth in today's industry, Vietnam needs to dive deeper into integration with Global Value Networks so that it can more effectively produce and distribute goods across borders.
One of the strategies is to tap into various Free-Trade Agreements (FTAs) such as the EU-Vietnam Free Trade Agreement (EVFTA) and the Regional Comprehensive Economic Partnership (RCEP). This will allow Vietnam to work with some of the largest economies and markets. 
There are a couple of benefits when it comes to FTA. Firstly, Vietnam will have access to new markers and they will be able to reduce tax barriers on their exports. 
For example, under the EVFTA, which was introduced in August 2020. Vietnam was able to export all their goods to the EU market duty-free or at reduced rates which will be able to boost exports of hi-tech products such as smartphones and laptops to the EU since they are one of the largest importers of these products in the world.
Trade Benefits Established 
Besides FTAs, Vietnam also established trade benefits with the US, Japan and South Korea which are some of its key trading partners. These trade benefits are based on bilateral and multilateral agreements or arrangements that give better treatment or cooperation for certain products or sectors. 
For example, in September 2023, when US President Joe Biden came to visit Vietnam. He pledged more cooperation with Vietnam in cloud computing, semiconductors and artificial intelligence. 
By collaborating with the US in these fields, Vietnam will be able to access cutting-edge technologies, skills and markets that will be able to enhance its capabilities and competitiveness in the hi-tech manufacturing industry. 
Another example is Japan's Industrial Policy Dialogue with Vietnam which was introduced in 2019 to support Vietnam's industrial development and digital transformation. With this, Vietnam was able to develop its key industries such as electronics, automotive and machinery with technical assistance provided by Japan. 
Demand for Higher Standards
As today's world gets more demanding and discerning, both consumers and businesses are looking for higher standards of quality, safety and sustainability in the hi-tech industry. 
This presents an opportunity for Vietnam to tap on to improve their production processes, as it will be able to help Vietnam enhance its reputation, increase customer loyalty and create a competitive edge in this industry. 
One way to improve production processes or to adopt smart manufacturing or industry 4.0 technologies, such as automation, robotics, internet of things, big data, cloud computing and artificial intelligence. 
These technologies can help Vietnam increase its productivity, efficiency, accuracy, and flexibility in hi-tech manufacturing, as well as reduce costs, errors, and waste. For example, VinSmart, a Vietnamese smartphone maker, has invested in a fully automated production line that can produce 125 million smartphones per year with minimal human intervention.
Benefits and Potential in this Industry for Vietnam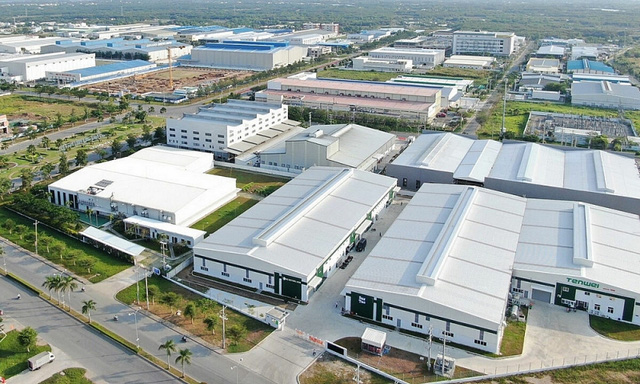 In conclusion, hi-tech manufacturing is a promising sector for Vietnam's economic development. There are many potentials such as higher value-added, higher productivity, higher wages, higher innovation and higher trade value that Vietnam could benefit from.
However, as mentioned earlier, Vietnam faces its share of challenges such as competition form emerging economies, underdeveloped infrastructure and low labour productivity that require thoughtful strategies and investments so that it can maintain its competitive edge in this global age. 
Looking at the bright side, there are numerous opportunities for Vietnam to elevate its hi-tech manufacturing even further. They can do so through free trade agreements such as the EVFTA and RCEP which will help them expand their market reach. Not forgetting bilateral trade cooperation with the US and Japan which can unlock new technologies and innovation for the country. 
Additionally, the growing demand for higher standards in quality, safety, sustainability, and social responsibility presents a golden opportunity for Vietnam to enhance its reputation and competitiveness. By embracing Industry 4.0 technologies, like automation and artificial intelligence, the country can boost productivity and efficiency while reducing costs and waste. 
In a rapidly evolving global landscape, Vietnam stands at a crossroads, armed with both challenges and opportunities. Its continued success in hi-tech manufacturing will depend on its ability to navigate these waters wisely, adapt to changing demands, and harness its strengths to solidify its role in the ever-evolving manufacturing supply chain.
References
https://saigontechnology.com/blog/vietnam-tech-industry-is-boosting-high-tech

https://www.wto.org/english/res_e/statis_e/wts2021_e/wts2021_e.pdf

https://asia.nikkei.com/Economy/Trade/Global-manufacturers-are-flocking-to-Vietnam.-Is-it-ready

http://www3.weforum.org/docs/WEF_TheGlobalCompetitivenessReport2019.pdf

https://trade.ec.europa.eu/doclib/press/index.cfm?id=1437 pan>

https://www.weforum.org/reports/the-global-competitiveness-report-2019

https://hai.stanford.edu/sites/default/files/ai_index_2019_report.pdf

https://www.businesstoday.in/current/economy-politics/india-to-offer-production-linked-incentives-to-more-sectors-to-boost-manufacturing/story/423184.html

https://www.reuters.com/article/us-indonesia-electric-autos/indonesia-offers-tax-breaks-to-ev-battery-producers-to-lure-investors-idUSKBN2A40JN

https://www.vir.com.vn/vietnam-faces-serious-shortage-of-qualified-workers-79901.html

https://www.vietnam-briefing.com/news/vietnams-hi-tech-industry-overview-and-investment-opportunities.html/

https://vietnamnews.vn/economy/1047876/vinsmart-invests-in-smartphone-production-line.htmlhtml

https://www.nbcnews.com/politics/white-house/biden-circumnavigates-globe-critics-zero-missteps-way-rcna104564html

https://vneconomy.vn/opportunity-for-vietnam-to-become-global-center-of-semiconductor-production.html

https://mtahanoi.com/2022/02/22/five-new-industrial-parks-to-be-built/