Multiplier Review
Overview of Multiplier
Multiplier provides payroll and compliance for global teams. The platform allows companies to hire and onboard employees and freelancers, manage international payroll compliantly and issue Employee Stock Ownership Plan to international hires.
Additionally, Multiplier offers local business entities in over 150 countries across APAC, Europe, and the Americas, secure cloud AWS, GDPR compliant, and enterprise-class data protection policies, and a team of legal and tax experts on-site to craft compliant contracts. The website also provides breakdowns of the costs associated with new hires by region and thoroughly automates onboarding and payroll.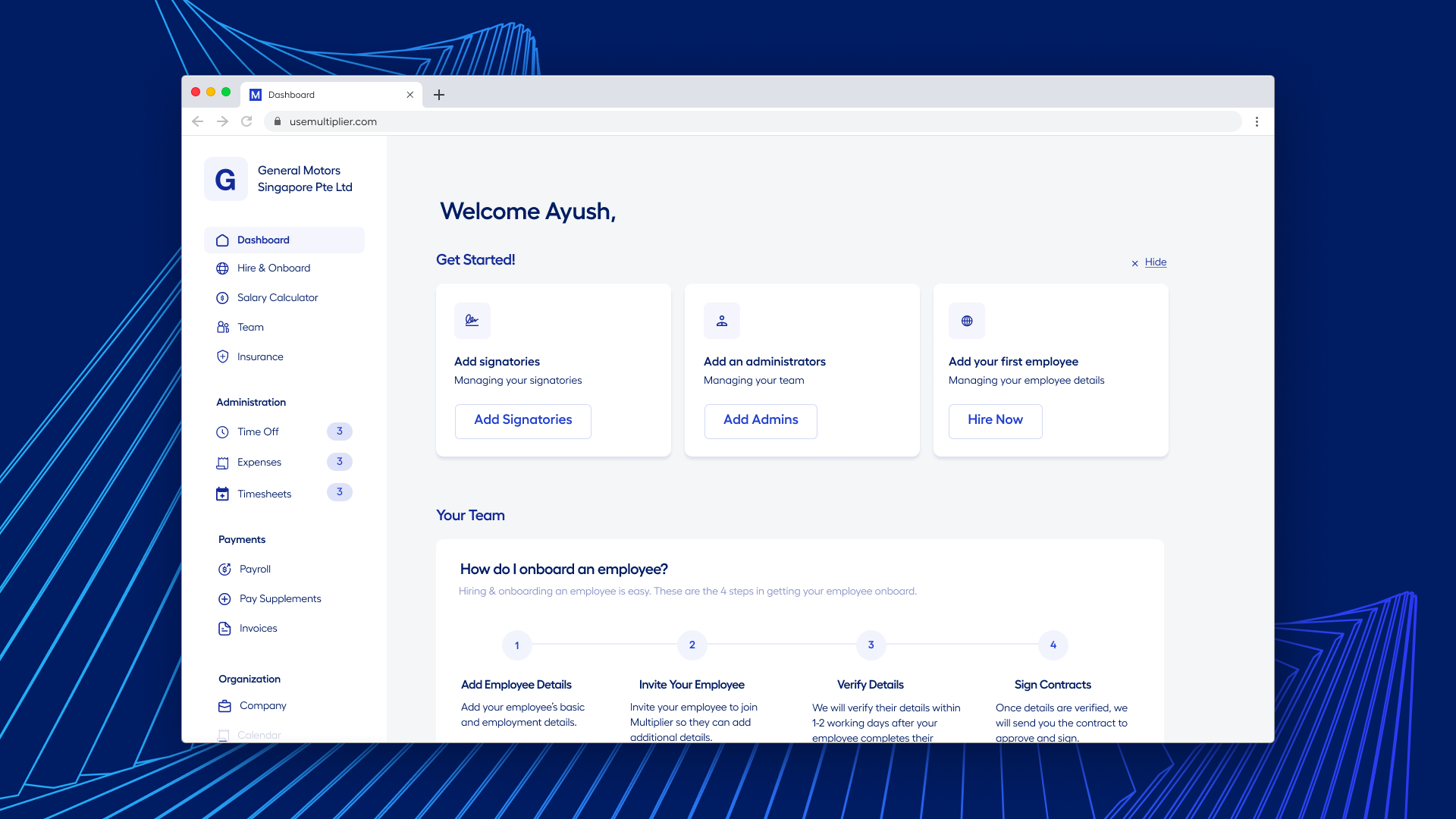 (Multiplier UI)
Pricing - Multiplier 
| | |
| --- | --- |
|   Earning of Record (EOR) |   From $400/month  |
|   Freelancer/Contractor |   $40/month  |
|   Global Payroll |   From $20/month  |
|   Employee Insurance |   From $20/month |
Find out more about Multiplier's pricing on  https://www.usemultiplier.com/pricing
Why do employers prefer Recruitery over Multiplier?
Recruitery may be a more appealing option than Multiplier for employers due to the broad range of free services, including recruitment, legal support, and office space assistance. Additionally, we offer the best quotes for hardware, goods, and services requests, which is important for cost-conscious businesses. For global hiring and payroll management, Recruitery is a cost-effective and comprehensive solution that may be preferable to Multiplier
 

Recruitery

Multiplier

Recruitment

✓

X

Local Salary Advice

✓

X

Compliance and Legal Support

FREE

Extra Fees

HR Support

FREE

Extra Fees

Price for EOR

$200/employee, 

per month

From $400/employee, 

per month 

Price for Contractor

$30/contractor, 

per month

$40 contractor, 

per month

Expenses Reimbursement

✓

X

Provide the best quote based on your request:

 

Office space

Hardware

Goods

Services

✓

X
Contact us via hello@recruitery.co for further assistance.