Unlocking Vietnam's IT Potential: Building Your Vietnam Tech Hub Guide
Insights
Vietnam's IT sector has witnessed remarkable growth, fueled by a rising middle class, significant infrastructure investment, and a strong emphasis on education. The country's young population, expanding middle class, and increasing internet penetration create a favorable environment for IT businesses. Additionally, Vietnam's strategic location in Southeast Asia provides access to a vast regional market, while its favorable business climate, government support, and abundant tech talent pool further enhance its attractiveness. 
Vietnam's Snapshot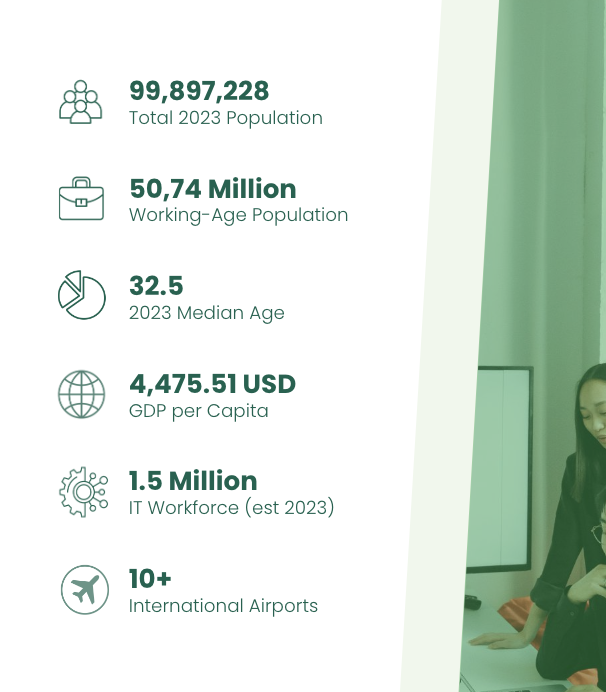 Vietnam, with a population of 99,897,228 in 2023, offers a thriving market for hiring software engineers. The country's working-age population of 50.74 million, with a median age of 32.5, represents a valuable talent pool for software companies. With a GDP per capita of 4,475.51 USD and a robust IT workforce of 1.5 million professionals, Vietnam provides a conducive environment to establish a successful software company in the country.
Vietnam's Tech Industry
Vietnam's IT Sector Overview
Vietnam's IT industry is booming and has become a key driver of the country's economy. It leads the software service industry among the ASEAN countries and competes globally in the IT landscape.
The government has set an ambitious goal to make Vietnam a top digital destination in Southeast Asia by 2030, with policies that support and encourage technology businesses to grow and scale. This creates a huge demand for IT talent which includes software engineers and highlights the importance and potential of the IT industry for further development and innovation.
As a result, many large technology companies have been investing and expanding in Vietnam, creating more job opportunities for software engineers.
What to expect from Vietnam's Top 3 IT Industries in years to come?
Artificial Intelligence (AI)
Vietnam's AI industry has been adopted in various sectors such as e-commerce, human resources, education, agriculture, healthcare, and more. To further promote AI development, the government recently passed a resolution aiming to increase the number of enterprises in the advanced technology industry to 50% by 2025, thereby encouraging foreign direct investment (FDI) that can aid in the advancement of AI. This is a great opportunity for software engineers who are looking for a career in AI. Vietnam has a large pool of talented and young developers who are eager to learn and innovate. 
E-commerce
Vietnam is a booming e-commerce market in Asia, projected to rank third in the region by 2025. The country's two major cities, Ho Chi Minh City and Hanoi, are key e-commerce hubs, accounting for 70% of total sales. However, there is also a huge potential for expansion in rural areas, where internet connectivity is improving rapidly. Vietnam's development process is cost-effective and efficient, which has drawn the attention of prominent e-commerce players in Asia who have established dedicated teams in the country.
Fintech
Vietnam's FinTech sector is projected to reach $18 billion by 2024, driven by a young population, a growing middle class, and increasing internet penetration. The country offers favorable conditions for fintech industry growth. Particularly, significant expansion is observed in digital payments, peer-to-peer lending, and blockchain technology with cryptocurrencies.
Vietnam's fintech industry has been growing rapidly in recent years. The country has a young population and a growing middle class that is increasingly tech-savvy. This has led to an increase in internet penetration and mobile phone usage, which has created favorable conditions for the growth of the fintech industry.
Digital payments are one of the fastest-growing segments of the fintech industry in Vietnam. The government has been promoting cashless transactions and has set a target of reducing cash transactions to less than 10% by 2020. Peer-to-peer lending is another area that has seen significant growth in Vietnam. It has been growing at a rate of 30-40% per year since 2016.
Blockchain technology with cryptocurrencies is also an area that has seen significant expansion in Vietnam.The country's blockchain market is expected to grow at a compound annual growth rate (CAGR) of 29.4% between 2021 and 2026.
Why foreign tech companies should expand/build techhub in Vietnam?
Government Support
The Vietnamese government provides funding, tax incentives, technical training, and business mentoring to support the tech sector's development. This assistance aids foreign tech companies in establishing a strong presence and growing their operations in Vietnam.
National Program for Innovation
Vietnam's National Program for Innovation aims to boost startup formation and recover from the Covid-19 investment decline in 2022. It fosters a favorable environment for tech startups by offering funding, training, and support. The program targets the creation of 2,000 innovative startups and 600,000 jobs by 2025.
One of the key sectors that the program focuses on is software engineering, which is in high demand in Vietnam and globally. The program helps software engineers find hiring opportunities in innovative startups and provides them with skills development and mentoring. By attracting and retaining talented software engineers, the program hopes to enhance the competitiveness and growth of Vietnam's tech ecosystem.
Lucrative Tax Incentives
Vietnam is a prime destination for foreign investors and companies looking for hiring talented software engineers. The government offers attractive tax incentives for the IT sector, such as 10% corporate income tax (CIT) for 15 years, four years of CIT exemption, and a 50% tax reduction for the subsequent nine years. These incentives make Vietnam a competitive and cost-effective location for technology companies to operate and grow.
100% foreign ownership
Vietnam has taken steps to ease foreign ownership restrictions in certain industries, allowing foreign companies to have more control over their operations. While there may be specific conditions and limitations depending on the sector, Vietnam has generally shown a trend toward promoting a more business-friendly environment for foreign investors. 
By allowing foreign companies to have 100% ownership, Vietnam aims to attract more FDI by providing greater incentives for international businesses to set up operations in the country. This policy allows foreign companies to maintain full control over their operations, decision-making processes, and profit distribution.
Low Operational Cost
Vietnam is a prime location for businesses, thanks to its low operating costs and high logistics potential. Vietnam ranks second among nine Asian countries in terms of the lowest monthly expenses, with only $79,280. This is far below Singapore's $366,561 and Thailand's $142,344. Vietnam also has a large pool of skilled and affordable labor, making it an ideal destination for foreign companies looking for talents.
Tech Market
IT Infrastructure
Vietnam has been building infrastructure to develop the information technology sector. Overseas technology companies setting up an office in Vietnam can receive additional incentives such as land rent exemption for IT businesses inside tech parks built by the government, further helping to reduce their expenses.
Tech parks in Vietnam include the Saigon Hi-Tech Park (SHTP) in Ho Chi Minh City. SHTP is a technology park located in District 9 of Ho Chi Minh City. It covers an area of 1,066 hectares and is dedicated to the development of high-tech industries, including electronics, information technology, biotechnology, and precision engineering. Secondly, the Da Nang Hi-Tech Park (DHTP) in Da Nang City DHTP is a technology park located in Hoa Vang District of Da Nang City. It covers an area of 1,129 hectares and is designed to attract and support high-tech industries, such as IT, electronics, and telecommunications. Thirdly, the Hoa Lac Hi-Tech Park (HHTP) in Hanoi: HHTP is a technology park located in Thach That District of Hanoi. It covers an area of 1,586 hectares and is dedicated to the development of high-tech industries, including information technology, biotechnology, and new materials. Some of the other techparks in Vietnam include Ho Chi Minh City Software Park, Ninh Thuan Hi-Tech Park, Hanoi Software Park, Can Tho Information Technology Center, Da Lat Hi-Tech Park, Cac Ninh Hi-Tech Park and Quang Trung Software City. 
IT Median Salary Report
| | | | | | |
| --- | --- | --- | --- | --- | --- |
| Tech Stock | Under 1 year | From 1 to less than 3 years | 3 to less than 5 years | 5 to 8 years | 8+ years |
| Javascript | 500 | 700 | 1200 | 1500 | 2800 |
| C# | 690 | 780 | 1100 | 1300 | 1650 |
| Java | 500 | 780 | 1300 | 1700 | 2100 |
| PHP | 550 | 820 | 1250 | 1300 | 1700 |
| Python | 780 | 1000 | 1500 | 2100 | 3000 |
| TypeScript | 970 | 1000 | 1400 | 1700 | 2500 |
| SQL | 650 | 820 | 1680 | 1850 | 2000 |
| C++ | 600 | 650 | 1000 | 1600 | 2000 |
| Kotlin | 600 | 780 | 1730 | 2160 | 2800 |
| Swift | 550 | 990 | 1800 | 2100 | 2700 |
| Go | 600 | 1100 | 1600 | 2600 | 3200 |
| HTML/CSS | 450 | 650 | 780 | 1100 | 1200 |
| Bash/Shell | 550 | 820 | 1400 | 2500 | 3000 |
| Ruby | 650 | 860 | 1500 | 2800 | 3250 |
| Dart | 500 | 600 | 850 | 1800 | 2250 |
| Powershell | 550 | 650 | 900 | 1100 | 1500 |
| Objective-C | 860 | 1250 | 1550 | 1950 | 2400 |
As technology products and services become more integrated into our daily lives, IT jobs are in high demand, especially for software engineers. Hiring software engineers is one of the most pressing concerns for business leaders, as talent shortages could impact their competitive advantages in the long-run. For this reason, Recruitery is committed to facilitating your search for highly skilled software engineers in Vietnam who can greatly contribute to the success of your software company.
Guide on hiring in Vietnam
The 2021 Labor Code of the Republic of Vietnam defines provisions for employee protections and workers' rights applicable to Vietnam's workforce of 56.5 million. Employees in Vietnam enjoy protections against discrimination based on age, religion, sexual orientation, gender expression, and race.
Minimum Wage
The Vietnamese government has implemented a two-tier minimum wage system for skilled and unskilled workers across four distinct regions within the country. In Region I, the minimum wage stands at VND 4,420,000 ($192.80), while in Region II, it is VND 3,920,000 ($170.99). For Region III, the minimum wage is VND 3,430,000 ($149.61), and in Region IV, it amounts to VND 3,070,000 ($133.91).
Skilled workers are entitled to a minimum wage that's at least 7% higher than the base rate defined for unskilled workers.
Employers' Cost
Vietnam's Employees' salaries consist of:
| | |
| --- | --- |
| Social Insurance Accounts | 17.5% |
| Health Insurance | 3% |
| Accident Insurance  | 0.5% |
| Control Union Fee  | 2% |
| Unemployment Insurance | 1% |
These percentages sum up to a total employer's cost of 23.5% of the employee's salary. 
Overtime Pay and Maximum Hours
In terms of working hours, the standard working hours are 8 hours per day and 40 hours per week, typically from Monday to Friday. Overtime payment is mandatory, and employees cannot work more than 12 hours in a day, including both normal and overtime hours. 
For overtime hours, employees receive:
150% of the hourly rate on weekdays

200% of the hourly rate on weekly days off

300% of the hourly rate on public holidays
Build A Vietnam Tech Team With Recruitery
With such promising prospects, partnering with Recruitery, a leading recruitment platform, can assist you in navigating the local market, connecting you with top-tier software engineers and talent in Vietnam. Recruitery's expertise in candidate sourcing, screening, and placement can help streamline your hiring process and support your efforts in establishing a successful software company in Vietnam.
We provide a long-term solution for successfully delivering your product roadmap without outsourcing your software development. In just a few weeks, we can set up dedicated software development teams in Vietnam that will be steadily integrated into your organization and can eventually be fully transferred.
Recruitery is an all-in-one hiring solution that streamlines the process of finding, hiring, and paying local talent in compliance with regulations. It offers a global payroll solution equipped with a comprehensive suite of payroll management features such as automated tax calculation, payment processing, and reporting
Want this Guide for Download?
Please send us a request to email: hello@recruitery.co We will send you a downloadable version of the reports