Welcome Messages for New Employees: Setting the Tone for Success
Any professional's life is significantly affected by their first day on the job. It's an exciting period filled with uncertainty and the desire to leave a lasting impact. This transition can be facilitated by a well-written welcome message for new hires, which can also set the tone for a successful and fruitful journey ahead. Welcome messages for new employees are the keys to unlocking their potential, and Recruitery are here to guide you on how to use them effectively.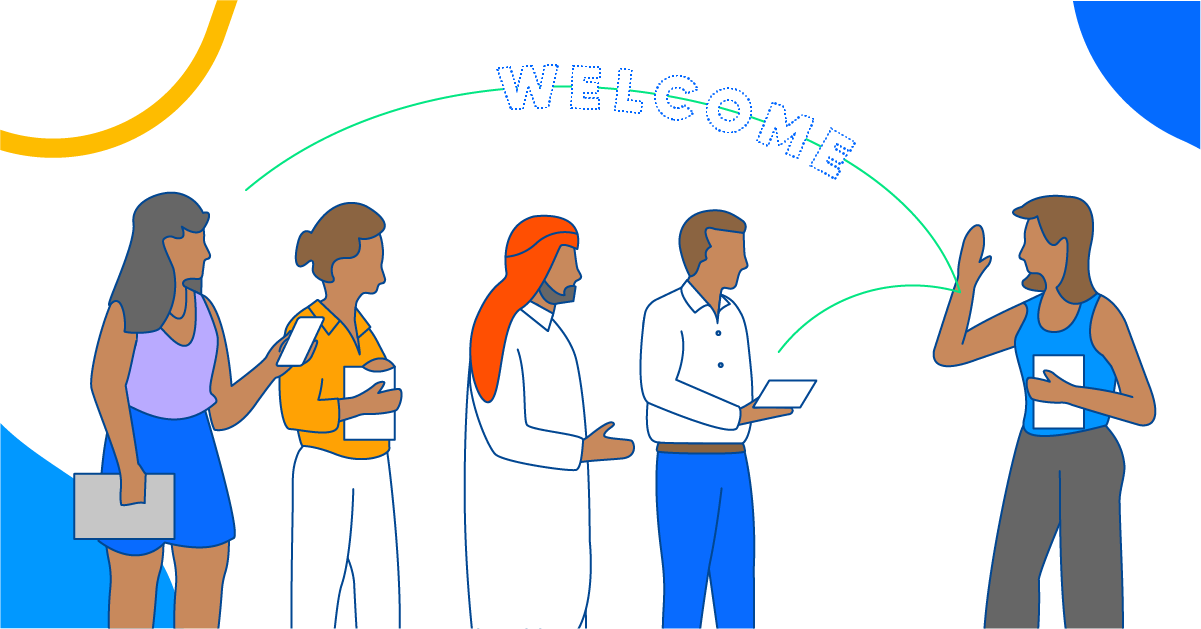 Why are Welcome Messages Important?
Welcome messages are not just a formality; they are a vital part of the onboarding process for several reasons:
Fostering Inclusivity: A heartfelt welcome message communicates that the company values and respects its employees. It's a signal of inclusivity, promoting a sense of belonging from day one.

Reducing First-Day Jitters: New employees often experience anxiety on their first day. A warm welcome message helps ease these jitters, making them feel more at ease.

Setting Expectations: Welcome messages can provide new hires with essential information, such as the start time, location, dress code, and any necessary paperwork, setting clear expectations for their first day.

Building Company Culture: By providing new employees with an introduction to the company's culture, values, and mission, you may assist them grasp what makes your firm special.

Boosting Morale: A warm welcome letter can help new hires feel more involved and inspired to work toward the success of the organization.
How to Welcome a New Employee?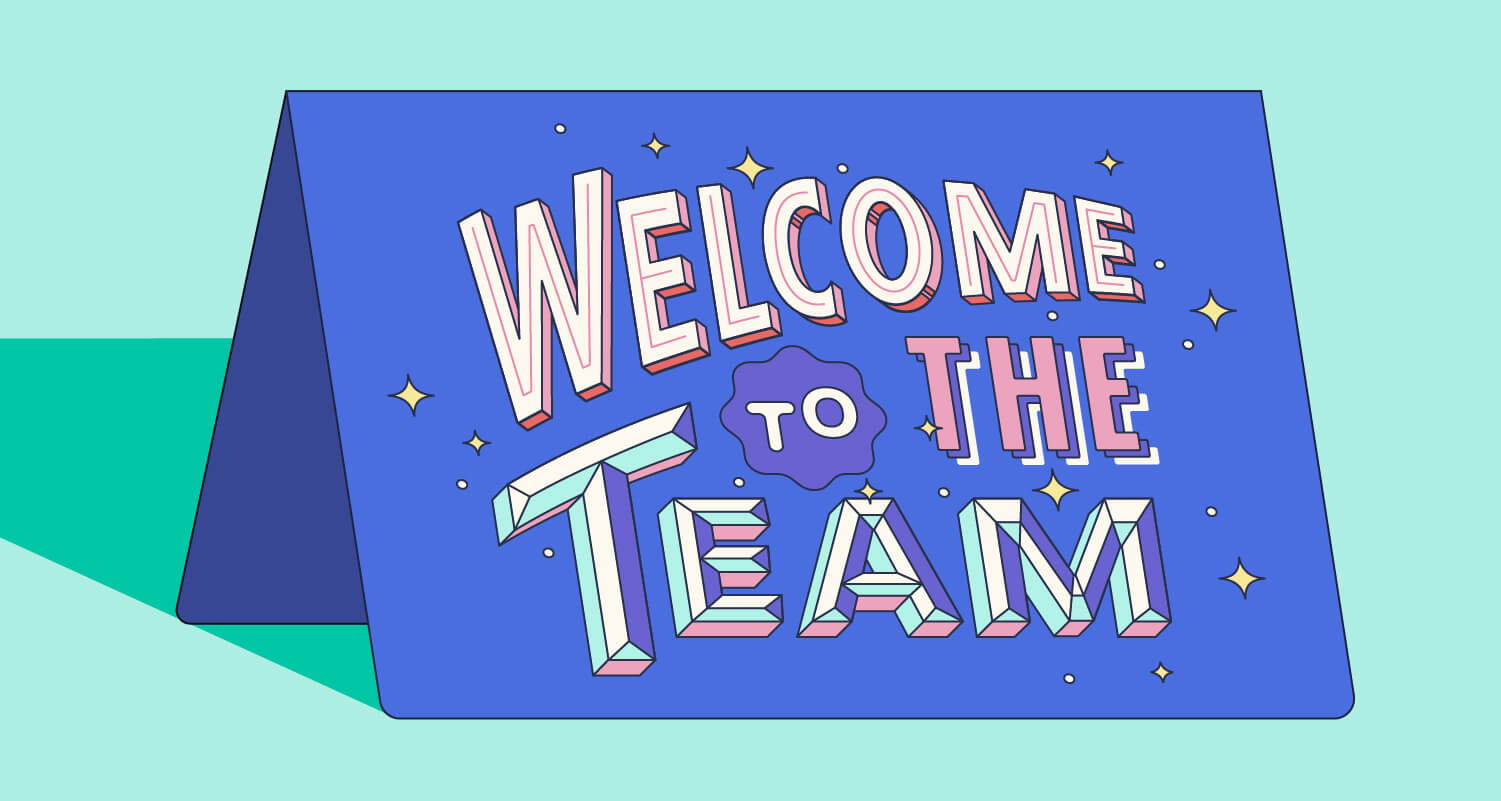 Creating an effective welcome message requires a thoughtful approach. Here are some tips on how to welcome a new employee:
Personalization: Refer to the new hire by their first name, and if at all feasible, mention something special about them, such as their upbringing or prior experience.

Warm and Friendly Tone: Use a friendly and approachable tone that makes the new employee feel valued and welcomed.

Company Values and Culture: Briefly introduce the company's core values, culture, and mission, highlighting  what makes the organization stand out.

Team Introduction: Mention the team or department they will be joining and include the names and roles of team members they will work with.

Logistics and Practical Information: Provide essential details about the first day, including the start date, time, location, and any necessary paperwork. Clarify dress code and any other requirements.

Resources and Support: Inform the new employee about available resources, HR contacts, IT support, and any training materials or resources they may need.

Encouragement: Offer words of encouragement and express confidence in their abilities, reinforcing their potential contributions.

Next Steps: Outline what the new employee can expect during their initial days, including training, orientation, or any onboarding activities.

Contact Information: Provide your contact information and encourage the new employee to reach out with any questions or concerns.
30 "Welcome to the Team" Message Examples
Welcoming new employees to the team is a great way to set a positive tone for their journey in your organization. Here are welcome messages you can use to make them feel valued and motivated:
1. Formal welcome messages to a colleague
"Dear [Name of Colleague], As our newest team member, I wanted to give you a hearty welcome. We anticipate your significant contributions to our department."
"Welcome to the team, [Colleague's Name]. Your experience and expertise are highly regarded, and we anticipate a productive collaboration."
"[Colleague's Name]: It is my pleasure to officially welcome you to our team. We're thrilled to have you with us because your arrival is an important milestone.
"Dear [Colleague's Name], your skills and qualifications align perfectly with our team's goals. We are confident that your presence will enhance our collective achievements."
"We extend a formal welcome to you, [Colleague's Name]. Your insights and dedication will undoubtedly contribute to our ongoing success."
We're excited to have you join our team, [Colleague's Name]. We are excited to collaborate with you because of your professional history.
"On behalf of the team, I want to formally welcome you, [Colleague's Name]. Your presence reinforces our commitment to excellence."
"Welcome, [Name of Colleague]. Our department is excited about your arrival, and we look forward to working with you to accomplish great things.
"Dear [Colleague's Name], you are a great fit for our team given your experience and credentials. We welcome your knowledge with enthusiasm.
We are delighted to have you here, [Name of Colleague]. We are confident in your abilities, and your participation is a crucial addition to our team.
2. Informal welcome messages to a colleague
"Hey [Colleague's Name], welcome to the team! We're excited to have you on board and can't wait to get to know you better."
"Hi [Colleague's Name], we're thrilled to welcome you to the [Team/Department Name]. Let's make great things happen together!"
"Welcome to the crew, [Colleague's Name]. We're all about hard work and some fun along the way."
"New face, new energy! Welcome, [Colleague's Name]. You're going to love it here."
"We have a new rock star in the house – it's you, [Colleague's Name]! Welcome to our amazing team."
"Hey [Colleague's Name], get ready for a wild voyage filled with obstacles and successes. We're here to help you every step of the way."
"Hi [Colleague's Name], we're not just colleagues; we're a family here. Welcome to the craziest, most awesome team ever!"
"Welcome aboard, [Colleague's Name]. The coffee's hot, the conversations are cool, and we're all set for an amazing journey together."
"Hi there, [Colleague's Name]. We believe in work hard, play hard, and we can't wait to work hard with you!"
"Welcome, [Colleague's Name], to a team that's as lively as it is talented. Your unique perspective will make us even better."
3. Welcome messages from a manager or team lead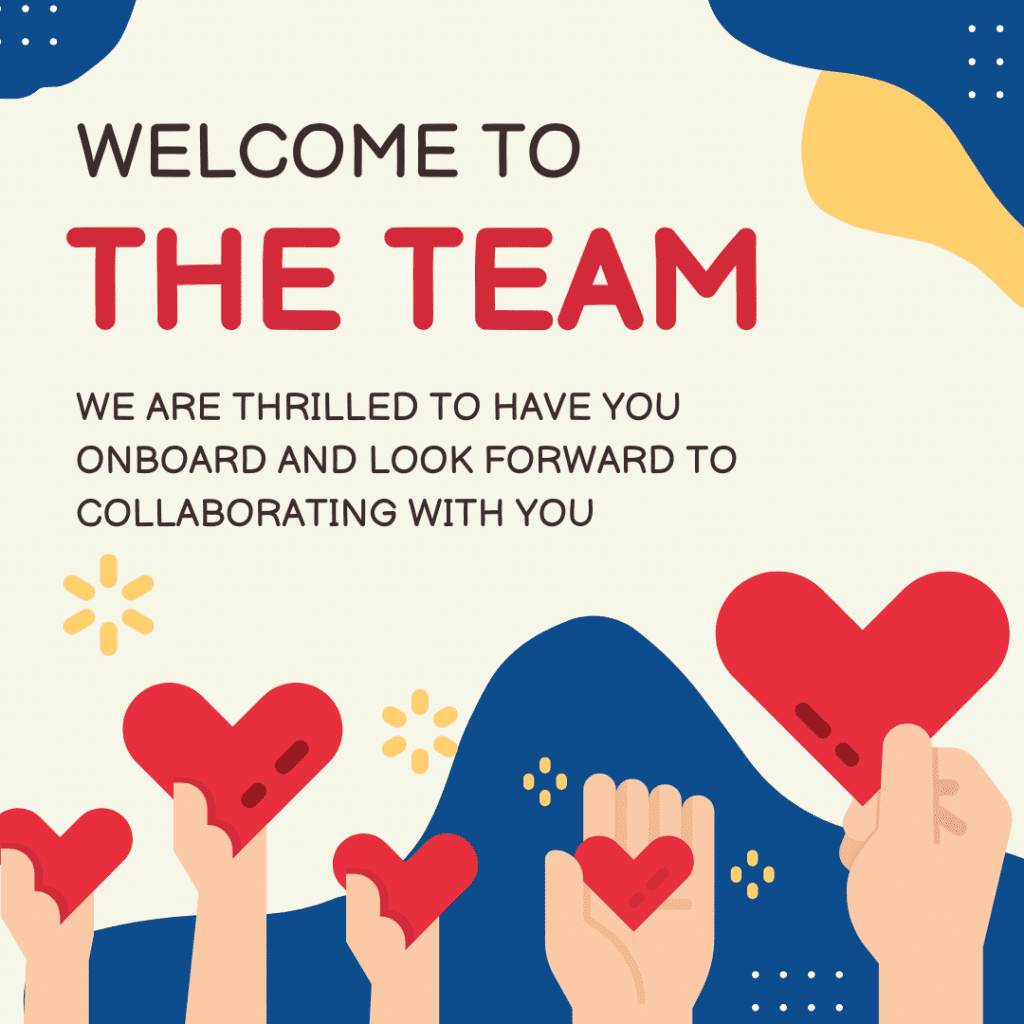 "Hello, [Name of New Team Member]," Your manager is [Your Name]. On behalf of our staff, let me extend a warm welcome. I'm here to support your progress and success in your new role, and we're thrilled to have your experience on board.
"The crew introduces the new team member as "[Name]". I'm here to support you in completing the responsibilities you have been given as the team leader, to ensure that you are accepted at work, and to give you the resources you need to be successful. The things we can accomplish when we collaborate excite us."
"Please accept my sincere gratitude. the crew says hello. We are thrilled to have you on board as the captain of your squad, [Your Name]. In the event that you have any inquiries, kindly contact us."
"[New Team Member's Name], please accept a warm greeting from your management. Our staff will benefit greatly from your knowledge. I'm here to offer direction and support, and I'm sure you'll have a big influence.
"Please accept a warm greeting from your management, [New Team Member's Name]. Your expertise will be very helpful to our personnel. I'm here to provide guidance and assistance, and I have no doubt that you'll have a significant impact.
"Hello [New Team Member's Name], I'm [Your Name], your team lead. Your arrival marks an exciting chapter for us. I'll be your point of contact for any work-related matters, and I encourage open communication. Let's work together to reach new heights."
"Welcome, [New Team Member's Name]. I'm [Your Name], and I lead our team. Your role is integral to our goals, and I'm here to support your growth and integration into the team. Let's embark on this journey of success together."
"Please accept my sincere welcome as your team leader, [New Team Member's Name]. You can count on me to cater to all of your needs and to make the move go smoothly. For our team to succeed, your work is crucial."
"[Name of New Team Member] welcomes you to the team. [Your Name] is your manager. Contact me if you require assistance or have any questions since I value cooperation and open dialog. We appreciate your visit.
"Hello, [Name of New Team Member], says the staff. The head of your team is [Your Name]. I'm eager to collaborate with you and support your success in your new position. You are a crucial component of our team's capacity to function as a unit, which is something we value highly.
Hit the Ground Running with a Warm Welcome
In conclusion, a considerate welcome letter can significantly impact how a new hire feels about their first day and the firm as a whole. Making someone feel valued and motivated is more important than simply taking care of the practicalities. 
By welcome messages for new employees, introducing them to the workplace culture, and providing them with crucial information, you can assist new hires get off to an excellent start. Recruitery believe that when you send a welcome message, it's the first step to establishing an effective and long-lasting relationship with the new members in your team.