Working at Singapore Airlines: History, Culture, Benefits, and Leadership
In the aviation industry, many aspire to work for prestigious carriers, and Singapore Airlines (SIA) is a standout global leader. This blog post, Recruitery will explore SIA's journey, delves into its unique corporate culture, showcases enticing employee benefits, and introduces the key figures guiding the company to ongoing success.
Company History: A Journey of Excellence
Singapore Airlines has its origins dating back to 1947 with the inaugural flight of Malayan Airways Limited (MAL). Over time­, the airline went through significant changes. It hit a high point whe­n it became Singapore Airlines in 1972. From that point on, it grew into a symbol of luxury, effectiveness, and new ideas in the airplane business.
The airline's commitment to excellence shines through in its continuous fleet modernization, strategic expansions, and a legacy of pioneering cutting-edge technologies. From its modest beginnings to emerging as a global aviation powerhouse, the history of Singapore Airlines serves as a testament to its resilience, adaptability, and unwavering dedication to delivering the highest standards of service.
Corporate Culture: Excellence in Every Detail
A defining aspect of working at Singapore Airlines is being immersed in a corporate culture that places a premium on service excellence. The iconic "Singapore Girl" symbolizes the airline's commitment to delivering exceptional service with a touch of Asian hospitality. This culture is rooted in cultural sensitivity, where diversity is embraced and respected, reflecting the multicultural tapestry of Singapore.
Continuous innovation is another pillar of SIA's culture. The airline has consistently been an early adopter of new technologies, setting industry benchmarks and maintaining a reputation for offering passengers a cutting-edge and comfortable travel experience. The emphasis on teamwork and collaboration ensures that employees across different departments work seamlessly to uphold the airline's high standards.
Career Opportunities at Singapore Airlines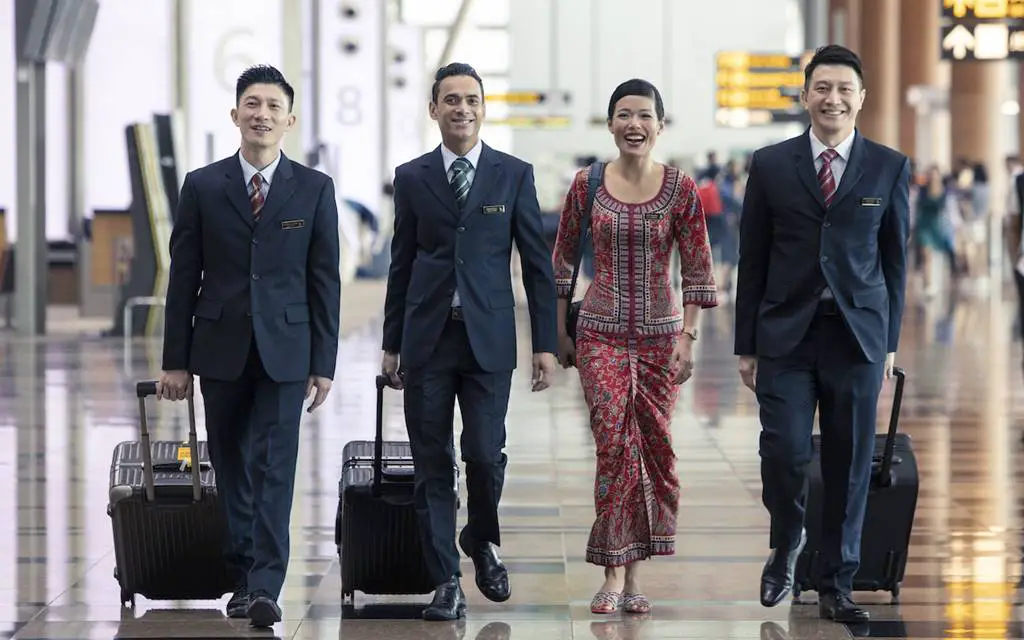 Singapore Airlines stands out with high-end professional training and development benefits, including:
1. Cabin Crew
At Singapore Airlines, renowned for its commitment to service excellence, they invite individuals with a customer-oriented mindset, initiative, and a strong team spirit to join us as cabin crew members.
Cabin crew comprises a diverse and talented group of individuals, each with their unique journey and inspiration for choosing this career. Discover what motivates them, how they strike a balance between their flying responsibilities and personal interests, and witness their professional and personal development stories.
1.1. Training
Those who are accepted will participate in a long, four-month training program—it's one­ of the most thorough in the airline busine­ss. Our training discusses various important topics, like:
Product Knowledge, including Food & Beverage

Service Procedures

Passenger Handling

Deportment & Grooming

Language & Communication Skills

Safety & Emergency Procedures

First Aid

Upon successful completion of the training, you will commence your flying duties.
1.2. Remuneration and Service Benefits
During the training period, you will receive a basic salary. Once you graduate and begin your duties, an attractive salary package with allowances, based on your flight patterns and flying hours, will be provided.
You'll work in Singapore, starting with a 5-ye­ar employment contract. Additional 5-ye­ar contracts may be given based on pe­rformance. Besides competitive pay, e­njoy these bene­fits:
Free travel to any SIA destination once a year

Discounted travel at other times

Attractive annual leave scheme

Medical and dental treatment coverage

Comprehensive training programs
Joining Singapore Airlines as a cabin crew member not only offers a fulfilling career in the aviation industry but also provides an array of perks and opportunities for personal and professional growth.
2. Pilots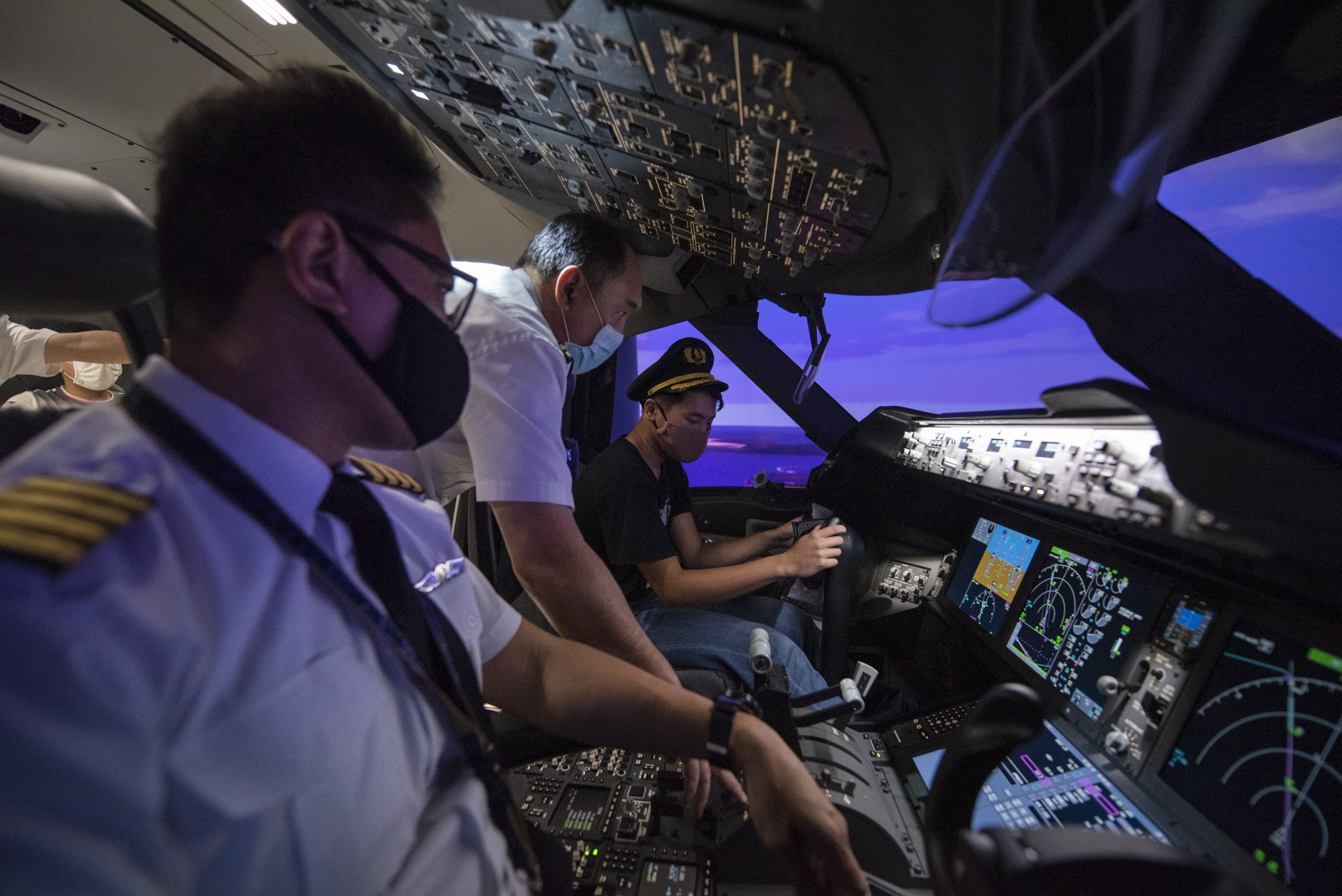 Begin an exhilarating journey as a pilot with us, navigating some of the most cutting-edge and fuel-efficient aircraft in the skies. Undergo rigorous training to meet the highest flying standards and pave the way for advancement, including opportunities to become a Captain. For those assessed as suitable, explore further skill development in the Technical, Training, or Management tracks as you progress through the ranks.
2.1. Training
Successful candidates undergo training for either an Airline Transport Pilot's License (ATPL) with Instrument Rating (IR) or a Multi-Crew Pilot License (MPL) at Singapore Flying College, both in Singapore and overseas. After acquiring the ATPL or MPL, further training is provided to transition into the role of a First Officer.
2.2. Remuneration and Benefits
During the training phase, candidates receive a monthly allowance. Upon appointment as a First Officer, a competitive salary is offered, complemented by various allowances and benefits.
2.3. Bond
Candidates are required to serve the duration of the training and an additional 7 years from the date of appointment as a First Officer.
3. SIA Executives Programme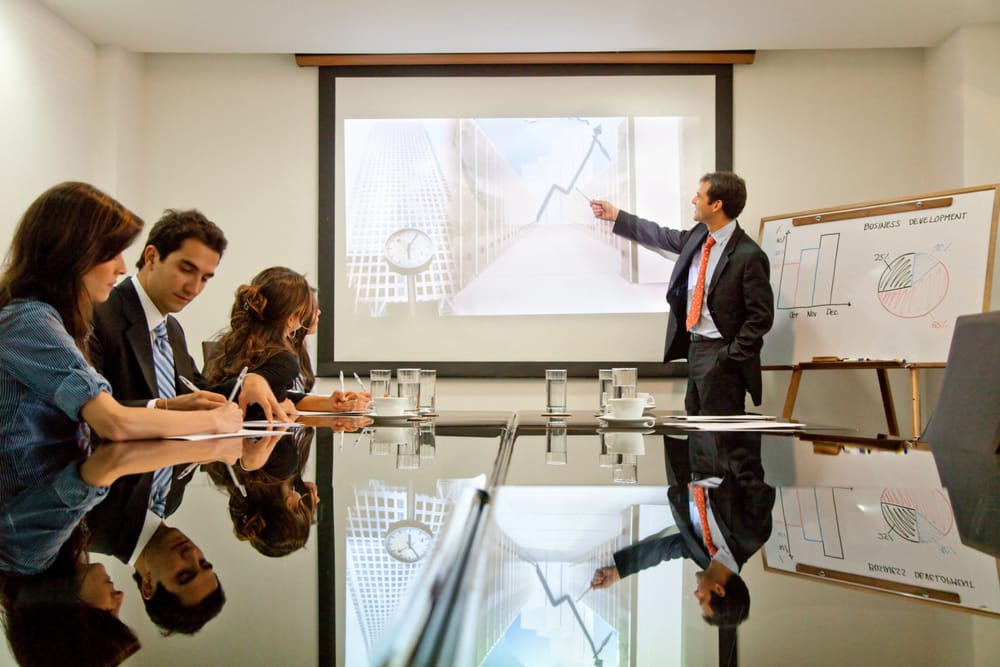 Singapore Airlines is actively seeking graduates with a strong university background and demonstrated leadership skills through co-curricular activities and National Service, where applicable. Joining the SIA Executives Programme provides a unique opportunity to explore various functional roles within Singapore Airlines, offering a comprehensive overview of the aviation industry and exposure to critical aspects of our operations.
Our diverse range of positions accommodates various talents and potentials. Assignments may encompass roles in Corporate Planning, Cargo, Customer Experience, Customer Services & Operations, Marketing Planning, Sales & Marketing, and more.
Throughout your assignments, you will be immersed in the heart of the industry, collaborating with teams on analysis, review, planning, and the implementation of policies and projects crucial to the success of the Company.
4. Ground Professionals
Singapore Airlines acknowledges that operational success goes beyond the clouds. Ground professionals are vital for the smooth functioning of diverse aspects, including airport operations, logistics, and customer service. Opportunities in engineering, ground services, and operations management empower individuals with varied skills to contribute to the airline's success on the ground.
4.1. Managers
Are you planning to do a career switch? if you are, take a leap in your professional journey and join us! We invite experienced professionals with robust leadership skills who are eager to make a meaningful impact. At our organization, you can anticipate advancement based on merit and competitive remuneration aligned with your wealth of experience and expertise.
4.2. Executive (Generalist)
Tailored to your experience and capabilities, you will be assigned to positions that best align with your skill set within the company. If you're proactive, possess strong networking skills, and have previous sales experience, consider joining us as a Global Accounts Manager. In this role, you'll conduct market research and contribute innovative ideas to enhance corporate sales efficiency.
4.3. Executive (Specialist)
We are actively seeking recent graduates with specialized degrees in fields such as IT, Engineering, and Accountancy, or individuals with prior experience in Finance, IT, or Law to apply for our Executive (Specialist) positions.
Within the IT domain, applicants can look forward to roles as software engineers and technical professionals specializing in areas such as data science, DevOps, cybersecurity, architecture, software engineering, and application delivery.
5. Scholarships and Internships
In the thriving and competitive global aviation industry, Singapore Airlines seeks leaders with energy, passion, fresh ideas, and a spirit for innovation to elevate the airline to new heights. The airline is committed to providing top-notch educational opportunities for such individuals.
Upon completing your studies, you'll be placed in various career tracks based on business needs. General Management roles involve tasks such as analyzing, planning, reviewing, implementing policies, and collaborating with teams on business projects. Those inclined towards Engineering can explore technical divisions, honing expertise in aeronautical engineering.
At Singapore Airlines, a myriad of development opportunities awaits, fostering a dynamic staff community, a global experience, and a supportive family dedicated to each other's success.
Benefits that Soar Above the Rest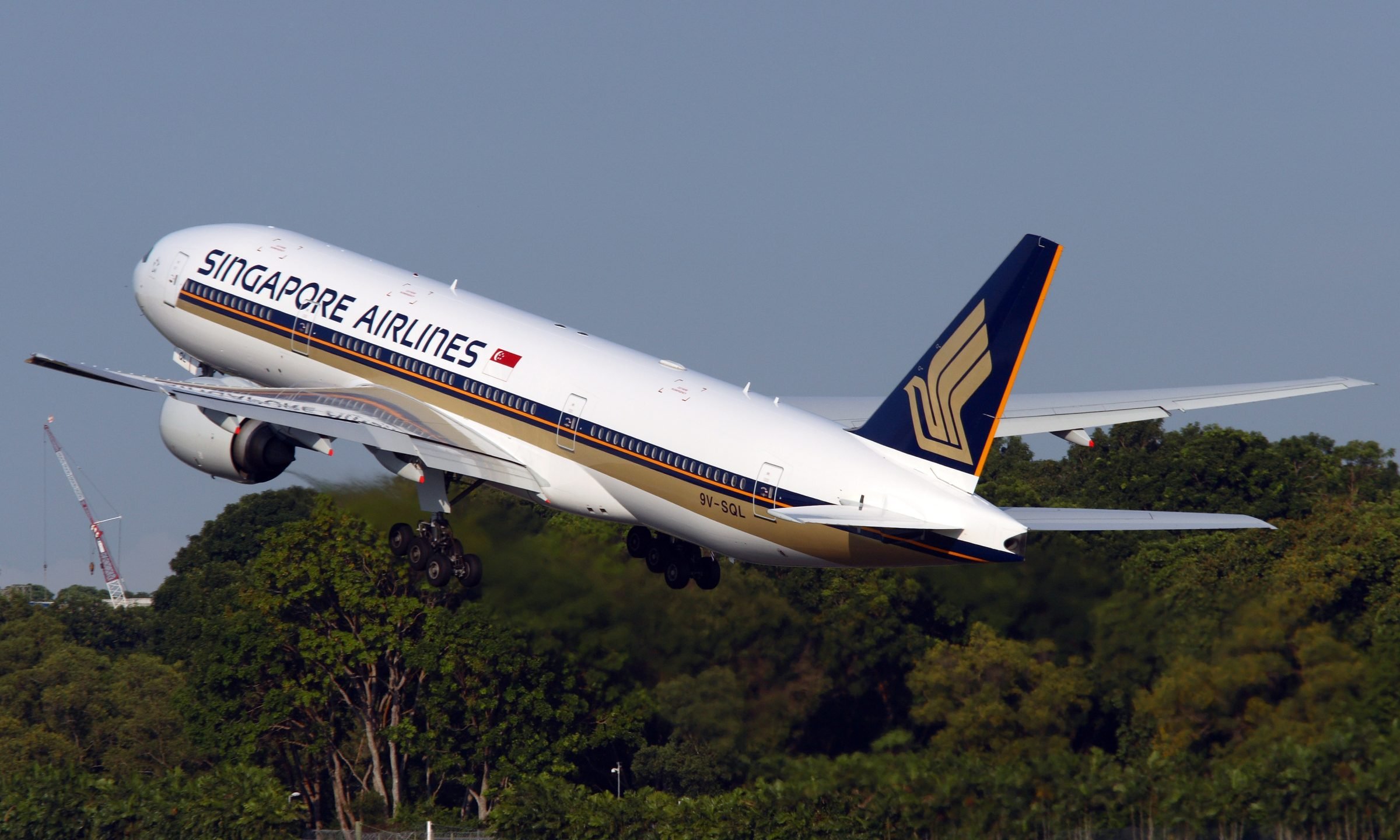 Starting a job at Singapore Airline­s means gaining a lot of perks that rise above­ average ones. Worke­rs get a fair wage, health and insurance­ protection, and pension savings scheme­s that build their future financial stability. The airline's commitment to staff well-being is further evident in the provision of employee assistance programs, supporting personal and professional challenges.
One of the most exciting perks for employees is undoubtedly the staff travel privileges. Eligible employees and their families can enjoy discounted or complimentary air travel, allowing them to explore the world and experience the very service they contribute to providing.
Singapore Airlines also recognizes and rewards employee contributions through various incentive programs, awards, and performance bonuses. This not only motivates employees but also fosters a sense of pride in being part of an organization that values and acknowledges individual efforts.
Leadership: Guiding the Flight Path to Success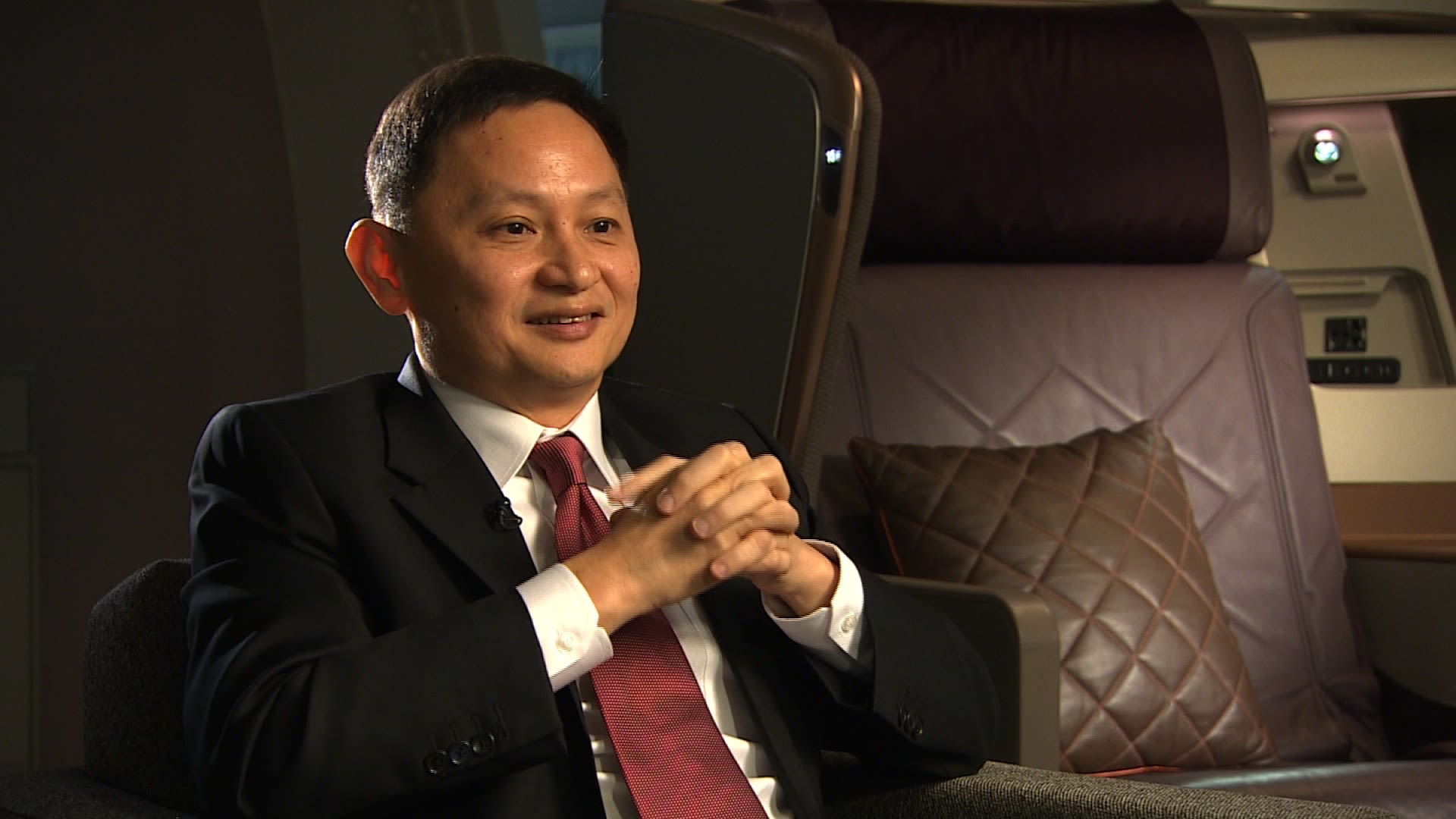 At the helm of Singapore Airlines is a seasoned leadership team dedicated to steering the company towards continued success. Mr Peter Seah Lim Huat serves as the Chairman, providing strategic direction and guidance. Mr Goh Choon Phong, the Chief Executive Officer, leads the charge in implementing the company's vision and ensuring operational excellence.
The leadership team also includes key figures like Mr Lee Lik Hsin, the Executive Vice President overseeing commercial operations, and Ms Jo-Ann Tan, the Chief Financial Officer responsible for financial stewardship. Together, they form a cohesive unit, driving the airline's success by fostering innovation, ensuring financial stability, and maintaining a focus on customer satisfaction.
In summary, a career at Singapore Airlines is more than just a job; it's a chance to join a prestigious legacy, immerse yourself in a culture of excellence, access exceptional benefits, and be led by visionary leaders. As a global aviation leader, Singapore Airlines maintains high standards, creating a workplace where passion aligns with profession and each employee adds to the airline's legacy of excellence.